The language of flower or Floriography is a symbolic way of communication which dates back to the Biblical times but was made popular in the Victorian era. Each flower has a special meaning. Think about which flowers you want in your bouquet, it represents what you are looking for in your life. The first book published on the same is Le langage des fleurs by Charlotte de la Tour, printed in 1818.
It is amazing how I have always include lily-of-the-valley, daisies, tulips and red carnations in my bouquet to Aaliyah, lately I learnt that lily-of-the-valley is for renewed happiness, red carnations say, "my heart aches for you," while daisies are for innocence and purity and tulips are for the declaration of love.
July Flowers are a delight and how accurate was Ralph Waldo Emerson when he exclaimed, "The earth laughs in flowers!" The petals bring in love, hope , desire , prayers and so much more.
Many poets and literary geniuses have used it to draw analogies and metaphors. Flowers are good news of God and the language of flowers is better than words, they leave your heart fragrant and effervescent.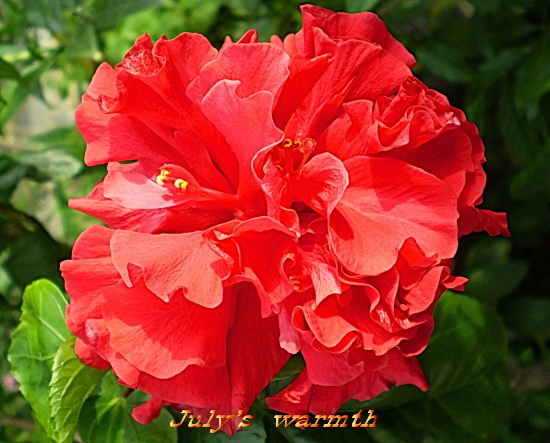 Let's dive into the meaning of summer flowers and their expressions.
Alstroemeria stands for friendship.
Bird of Paradise is for joyfulness.
Carnations are of pride and beauty. Pink carnation indicates mother's love or memories while red is for desire and deep love, white carnation is for pure love and good luck, the yellow carnations were used to gently reject the proposal or express disappointment.
Chrysanthemum stands for fidelity, white chrysanthemum is for truth, red is for expressing love while yellow is for slighted love and pink chrysanthemum is to show your cheerfulness and delight.
Delphinium is heavenly flowers offered to the divine.
Dandelion means getting your wish fulfilled or healing from pain, it is also sent to wish for healthy recovery.
Freesia is for innocence.
Gladiolus is for celebrating strength in character.
Gardenia is for secret love.
Heather stands for admiration.
Iris is the compliments you want to give to your loved one. It also is for hope and valor.
Lilac is youthful innocence.
Lily is a majestic flower which stands for purity. Send these to wish for wellness.
We are glad to be receiving so many poems, free falling verses and haikus for Summer Poem Contest. Keep sharing and sending your expressions to me at giftasmile@123greetings-inc.com. Share what inspires you every day. See you in the comments.