Easter Blessings to all of you. Remember, our redeemer lives and is here to keep us safe from the shadows. He protects us and our loved ones. Keep praying and loving him.
Last week I met an amazing couple Kaya and Christiane, authors and spiritual teachers who have founded Universe City Mikael which teaches signs and symbolism to understand the subtle messages from God and angels. The conversation left me in awe and I learnt a lot of things that filled in the gap in my heart.
10 takeaways from my rendezvous with the sages of modern era are here for you-
Real joy is to be in synchronicity with God in every moment of life.
Love is when you have no expectations yet you can expect anything. Love brings in a great responsibility to love yourself primarily because when you are complete you attract someone who is also complete and there are no emotional dependencies. Two broken beings cannot create a wholesome life. You have to work on yourself first to be able to love.
Be open to divine wisdom which can flow to you from anywhere. Be mindful of the subtle signs and symbols. Emptiness can be transcended with the knowledge. Dreams are messages of evolution so be aware of them and understand the inherent messages hidden in them.
Money is only an energy which helps us in sail through life conveniently. However it is important to remember it is only a means to a desired endpoint and not the destination itself.
Essence of life is to develop qualities. Angels represent qualities and the wings metaphorically mean evolution by imbibing the virtues.
Resurrection is renewal of spirit and it is not one time but an everyday phenomenon of life. Each day live as if it was the last and also as if it was the first. Stay in awe and in the state of love.
Depression is an initiation of the soul. It is not a burn out but burn in and it is your soul telling you to relax and reflect.
There are no coincidences in life. Everything is a miracle in itself. Kaya left his dream career of becoming a super star for his inner spiritual calling which was only validated when a young girl who was dying of leukemia gave him a message that it was time for him to be a spiritual teacher. Look around and reflect upon those spontaneous moments which left you in awe. They are all indicating something important to you. There are absolutely no coincidences.
You create your own universe as you go along.– Winston Churchill
Law of resonance is working all the time. Check your thoughts, feelings and words as you are constantly building your own world and that definitely will drop the need to complain or crib and you will start working towards how you want to paint your world.
God loves each of us as if there were only one of us.– Saint Augustine
Get out of the caged thinking and shout out to the stars, no fate can stop you if only you believe that you are loved by Him.
Send Easter Greetings to your folks now. Easter fills us with hope, joy and warmth.
Upcoming Events
Spring,
March 20 – June 20, 2016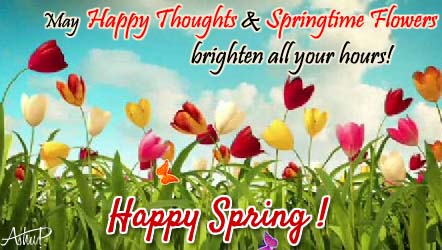 April Fools' Day,
April 1, 2016
Did you Know?

Egg Hunt and Egg rolling are popular traditions of Easter; decorating eggs mark the new beginning, renewal and rebirth of Jesus. An egg hunt involves hiding eggs with candies and chocolates outside for children to run around and find on Easter morning. Eggs are rolled as a symbolic reenactment of the rolling away of the stone from Christ's tomb. White House Easter Egg Roll event is to be held on the 28th Of March. Thirty-five thousand lucky guests will gather for games, story-telling, entertainment and egg hunt and rolling. The theme this year is "Let's Celebrate!" We invite you to celebrate the event by sending warm greetings.